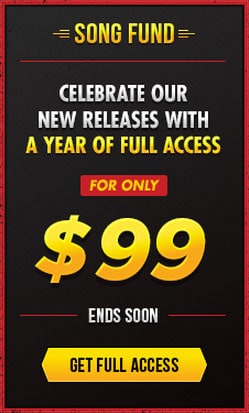 Just got word that GuitarTricks.com is running another "song fund", where they give a nice discount on their yearly membership, so I thought I would let you know, in case you were thinking about joining their site.
So their goal with these "Song fund" discount periods is to raise cash quickly, to be able to pay music publishers for allowing GuitarTricks to teach their songs.
I don't know how it works in reality, since I would have thought that music licensing works on an ongoing basis, like in other media (radio, commercials, etc.), but I guess they have a different deal set up.
But it doesn't really matter, since the point is:
[box type="tick" size="large" border="full"]For a few more days, you can score a GuitarTricks.com annual membership for just $99, which is a $30 discount from the original $129.99.
Click here to get discount![/box]
With the new promotion, GuitarTricks is adding many new songs to their already sizeable song lesson archive. Some new songs being added this time are:
Several Pearl Jam songs
Stone Temple Pilots - Interstate Love Songs
Johnny Cash - San Quentin
Sugar Ray - Fly
The Polics - So Lonely
The Who - Heatwave
etc.
As you know, I am a big proponent of learning guitar through learning songs. While the guitar lessons on songs on my site are created more for beginner-intermediate players, the songs created by GuitarTricks are more detailed and complete.
For students who are finding my lessons to be not so much of a challenge anymore, I can wholeheartedly recommend GuitarTricks as the next step in learning guitar. As you'll see from my review of GuitarTricks, they are a great resource for video tutorials on just about everything guitar, and since they do have a 60 day money back period, you don't really have anything to lose.
https://www.theguitarlesson.com/wp-content/uploads/the-guitar-lesson-logo.png
0
0
Tom - TheGuitarLesson.com
https://www.theguitarlesson.com/wp-content/uploads/the-guitar-lesson-logo.png
Tom - TheGuitarLesson.com
2013-09-15 12:14:13
2016-07-01 09:34:23
GuitarTricks.com Discount - September 2013