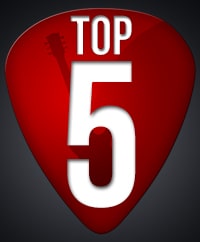 Hey guys, welcome back to another edition of my monthly report on the 5 most popular song lessons on TheGuitarLesson.com. I like to share this report with you guys, because I hope it will motivate you to learn & play more songs, the songs your peers are playing to be exact.
Springtime is here, and welcome it is. It's been a long and hard winter in most parts of the world, so everyone can use a bit of sun and heat. The flowers are blooming, the birds are chirping, the sun is shining. What a great season!
You will probably start going outdoors more, which usually translates into less practice time on your guitar. I would really encourage you to buy a cheap acoustic guitar, and take it with you. Are you going camping? To the beach? Over to a friends house for a barbecue? Take your cheap travelers guitar with you, learn a few campfire songs, and strum away 🙂
The 5 top guitar lessons of March, 2018
5. Wonderful Tonight - Eric Clapton
The 5th most watched song was Wonderful Tonight, a beautiful love song by Eric Clapton. It's interesting to note that I don't remember  this song ever appearing on the top 5 list. Regardless, it's a great song for guitar players of all skill levels to learn, since it has something for everybody.
Riffs, chord progressions, nice strumming patterns, so the works.  😉
4. Nothing Else Matters - Metallica
Wow, the 4th song on the list is another song which has never appeared on the top 5 countdown. This classic by Metallica is not really for beginner, as it involves rather advanced finger picking and chords. If you are at an intermediate level, make sure you learn it though. I remember about 15 years ago, I auditioned for a guitar gig, and this is the song they asked me to play. I got the gig, you can too 🙂
3. Tush - ZZ Top
If you are into blues and rock, make sure to check out Tush by ZZ Top. It's an awesome blues/rock song, that will teach you a lot of new techniques. Again, this is an intermediate level song, so beginners will have to wait a bit before tackling this one. After learning Tush, you'll have advanced your lead guitar skills loads, and learn several blues rock techniques in the process. 
2. Here Come The Sun - The Beatles
I'm always thrilled when I see this song reach the top 5 list, as it's still one of my favorite songs to play to date. I learned it a very long time ago, like 15+ years, but I still play it regularly. I think I played it yesterday as well. It's a great fingerpicking song for intermediate players. When learning it, think about the theory behind the chord progression as well.
1. Ring of Fire - Johnny Cash
I guess ring of fire will never get old, as it's been leading the top 5 list for many months now. The reason for this is that a lot of new students choose this as one of their first songs, since it's simple, yet fun. It uses the 1-4-5 chord progression with open chords, keeping things nice and easy, just what newbies need.
This concludes our Top 5 list for the month, I hope you're psyched to start learning some of these songs. Have fun, and I'll see you in one of the lessons!
This concludes the top 5 list for the month of March. I hope you found a few songs that got you excited to play, so go grab your guitar right now if you can 🙂
If not, I want to direct you to 2 new big articles I published last month, the best beginner acoustic guitars, and the best beginner electric guitars. If you're thinking about which beginner guitar to get, look no further.
https://www.theguitarlesson.com/wp-content/uploads/the-guitar-lesson-logo.png
0
0
Tom - TheGuitarLesson.com
https://www.theguitarlesson.com/wp-content/uploads/the-guitar-lesson-logo.png
Tom - TheGuitarLesson.com
2018-04-09 13:15:20
2018-05-16 07:44:17
5 Most Watched Lessons - March 2018