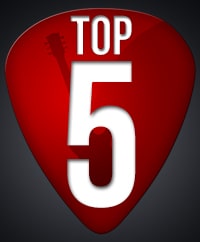 Hello everybody, welcome to this month's report on the most popular guitar lesson on TheGuitarLesson.com. Every month, I like to publish my findings on what you guys have been up to, in the hope of motivating my students to learn more songs.
2018 is starting out strong, it looks like a lot of people got guitars for Christmas this year. It's been a cold winter in most parts of the world, it's freezing cold and snowing even as I write this post (in Europe). The US is the same. Australia? Not quite 🙂 The cold weather keeps people inside, and people pick up their guitar more. Statistical fact. And as Winston Churchill said, "I only believe in statistics that I doctored myself."
So without further ado, here is the top 5 list of tutorials from February.
The 5 top guitar lessons of February, 2018

5. Sweet Child O Mine - Guns n Roses
This awesome Guns N Roses song has appeared on the top 5 list a few times in the past. It's great to see you guys learning rock classics, songs I grew up on. It goes without saying, that Slash's riff is one of the best riffs ever created. Period. I whole generation of electric guitarists grew up learning it, and it looks like the trend is continuing. If you love the electric guitar, make sure you have a go at our Sweet Child O Mine tutorial.
4. Say You Won't Let Go - James Arthur
This fingerstyle song has been on the top 5 list for 3 months now. I think it's because it's featured at the very top of the lessons list, so it gets in front of more people than a usual lesson would. The higher bounce rate of this lesson is also evidence of this. Anyhow, if you like the genre, this is a great song to learn. You will get a chance to practice some really nice fingerstyle techniques, and learn an awesome song.
3. One Love - Bob Marley
This lesson can teach you a lot about reggae, it's a great song to just sit down and groove to.  published this song on YouTube not long ago, so I guess a lot of people are coming from there to download the jam track and tabs to One Love. This is a pure barre chord song, which is perfect for getting better at holding down barre chords. Will your hands hurt afterwards? Yes. How much will your barre chord skills advance after learning this song? 163.5%.
2. La Bamba - Los Lobos
I was just watching an old favorite movie of mine on TV the other day, Desperado with Antonio Banderas, and I realized that I have to make a lesson teaching Cancion Del Mariachi soon. So it's a nice coincidence that this Los Lobos song made it to the top 5 list for the month. It is, of course, one of the most popular songs of the world, a great intro to Spanish style music. If you like it, make sure you watch my Spanish guitar lesson as well.
1. Ring of Fire - Johnny Cash
Still the undefeaetd champion, Ring of Fire is one of the most watched lessons on TheGuitarLesson.com. It reaches the top of TheGuitarLesson.com charts 84.31% of the time. (Oh I'm loving these statistics today 🙂 ) So Ring of Fire is a simple strumming song, which uses very basic open chords. Absolutely essential for beginners, so if you're just starting out on the guitar, or maybe haven't learned this Johnny Cash classic yet, you know what to do.
This concludes our Top 5 list for the month, I hope you're psyched to start learning some of these songs. Have fun, and I'll see you in one of the lessons!
https://www.theguitarlesson.com/wp-content/uploads/the-guitar-lesson-logo.png
0
0
Tom - TheGuitarLesson.com
https://www.theguitarlesson.com/wp-content/uploads/the-guitar-lesson-logo.png
Tom - TheGuitarLesson.com
2018-03-02 10:06:02
2018-05-16 07:44:17
5 Most Watched Lessons - February, 2018