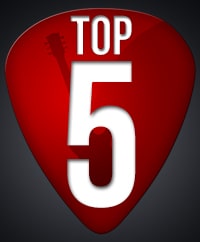 Hey guys, welcome to this month's post on the most popular song lessons on TheGuitarLesson.com.
Summer (my favorite season) has officially come to an end. Kids are going back to school, adults are returning from vacation, and as I write this, hurricanes are ravaging the Caribbeans and Florida. We live in Florida, but we're not there right now thank God. Stay safe if you are in an area affected by the hurricane, do as the officials say.
Now back to the topic at hand, people usually start picking up the guitar again after their summer break, so if you have been neglecting your guitar, start showing it some love already 🙂
To give you some motivation, have a look at the guitar songs your peers have been learning in August.
The 5 most popular guitar lessons of August, 2017
5. Hotel California - The Eagles
This awesome song has really been making a comeback (at least on TheGuitarLesson.com), this is the 2nd month in a row, that it made it into the top 5 list. You'll learn a lot of useful techniques with this song, including how to use a capo, chords, arpeggios, and more. Give it a go, it's one of the most famous songs of all time.
4. Ring of Fire - Johnny Cash
This Johnny Cash classic never gets old. The lesson is among the top 5 lessons very often, which leads me to believe that my students dig Johnny Cash. It's actually sort of surprising that his rendition of Hurt isn't watched as often. Come on guys, learn that as well 🙂

3. Here Comes the Sun - The Beatles
I'm thrilled that this song reached the Bronze position on the Top 5 list this month, since you might already know, that Here Comes The Sun is actually one of my favorite songs of all time. I still play it all the time, lots of people love it. I was over at a friends house one a guys night out taco party last week, he's a guitar player as well. I picked up this guitar, started playing this song (exactly as I teach it in the lesson, without a capo), and 2 guy started singing. Loads of fun! To me, that's what playing music is all about.
2. Pink Panther theme - Henry Mancini
It's interesting to see the Pink Panther theme in the top 5 list again this month. It's a great song for beginners, and I recommend it to a lot of people both in my online lessons, and personally, so that may boost it's perceived popularity a bit. If you haven't learned it yet, make sure you do so today!
1. Summer of '69 - Bryan Adams
What a stylish way to finish off the summer, right?! The Summer of '69 is an all time classic by Bryan Adams, it brings back memories to everyone, no matter their age. This is a fast paced electric guitar song, but even if you play the acoustic, learn it. I played this at taco night the other day on an acoustic, and every still sang. It's all about the mood, the atmosphere the music creates, not about having everything played as per the original, or even precisely right. Don't be afraid to play in front of others, since I really believe that's where it gets truly rewarding.
This concluded the Top 5 list for August, I hope you found some inspiration and will have fun learning some of the songs listed above. See you in one of the lessons!
https://www.theguitarlesson.com/wp-content/uploads/the-guitar-lesson-logo.png
0
0
Tom - TheGuitarLesson.com
https://www.theguitarlesson.com/wp-content/uploads/the-guitar-lesson-logo.png
Tom - TheGuitarLesson.com
2017-09-10 06:44:40
2018-05-16 07:44:19
5 Most Watched Guitar Lessons - August, 2017