Happy New Year everybody! I can't believe another year has flown by, and this is the first post of 2014. Keeping good traditions going into the new year as well, I'll continue publishing the top 5 guitar lessons of the site, just so you know what other's are learning, and maybe draw some inspiration from it to practice even more in 2014.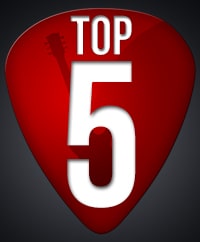 December is historically a very interesting month for the guitar industry, since it's Christmas time, and LOTS of people get guitars for Christmas. It's a really great present for sure, and naturally, people who get guitars start searching for ways to learn it. Some will end up seeing private teachers, but other's will learn online from sites such as TheGuitarLesson.com, JamPlay, GuitarTricks, and so on.
Of course, the top 5 lessons of December will only slightly reflect the increased viewership, but it's coming, and will make January a very interesting month. Actually, the first few months of the year carry on the Christmas guitar craze, but I won't get ahead of myself, we'll see what happens in the following months.
Those of you familiar with my series of Top 5 Lesson posts will know that I want you to see the 5 most popular song tutorials, so if there are any basic guitar lessons in the top 5, I'll just expand the list to as many as it takes to show you 5 song lessons.
Top lessons in December, 2013
This month, there were 3 basic lesson among the top lessons, so I'm increasing this month's top 5 countdown to Top 8 countdown.
8. Samba Pa Ti - Santana
Santana is usually among the top songs for good reason. He's a very popular and very productive guitarist, who tours a lot and still releases albums. It's interesting how he can create so many so popular songs being just a guitarist (not a singer), I don't think there are any other "just" guitarists that are as popular as Santana.
7. White Christmas - Bing Crosby
Well wouldn't you know it, the first Christmas song on the list. Will there be more? You probably scanned the list so you know already 😉 White Christmas is an evergreen Christmas classic, and I'm so glad I made a lesson on it for all of you to enjoy and play to your families during the Holidays.
6. Jingle Bell Rock - Bobby Helms
Oh my, another Christmas song. You can definitely tell that people were eager to learn Christmas songs during December, which is great. I hope you, my esteemed reader, were among these viewers as well. Jingle Bell Rock is another classic that never gets old.
5. Silent Night
Silent Night is basically the ultimate Xmas song, known all over the world. As I say in the lesson, it's probably the most famous song ever written. This song was on our Top 5 list in November already, at a higher position actually, and continued in December.
4. Jingle Bells
And this makes for the 5th song lesson on the Top 5 list, another Christmas song. So altogether, there were 4 holiday lessons in December's Top 5 list, not bad. This was to be expected I would say. Oh, and about Jingle Bells, well, if you don't know it, than learn it for next year.
3. Basic lesson #1
Having a few basic lessons in the top 5 list is to be expected, since my site is aimed at beginner guitarists. I guess they will always have a place among the most viewed songs, no matter what season it is. Of course, the first basic lesson is one which all beginners will watch.
2. Basic lesson - How to read guitar tabs
Another basic lesson, this one is all about learning how to read guitar tablature, since tabs are used in all of my lessons. Beginners will find this lesson useful, since it'll clear up a lot of things on reading guitar music, the internet is flooded with guitar tabs.
1. Basic lesson - How to read chord charts
The most watched lesson of December is my lesson on learning to read chord diagrams, another fundamental lesson which all beginners have to learn to be able to advance their skills. Chords and chords diagrams are used all over the internet (and my lessons), so learning them is imperative.
So that's it for this month's Top 5 countdown, as you would expect, we had a lot of Christmas songs in the list. I would have liked to see a Christmas song at the top of the list though, but I guess there are more beginners on my site than players who can already play a full song, so I'm not complaining. As long as I can help others learn and love the guitar, I'm doing a good job.
So with that pat on my back, I would once again like to wish all of my students and your families a very happy and successful new year to come!
https://www.theguitarlesson.com/wp-content/uploads/the-guitar-lesson-logo.png
0
0
Tom - TheGuitarLesson.com
https://www.theguitarlesson.com/wp-content/uploads/the-guitar-lesson-logo.png
Tom - TheGuitarLesson.com
2014-01-08 12:13:29
2016-07-01 09:36:08
5 Most Viewed Lessons of December, 2013