It's time to have a look at the most popular guitar lessons on TheGuitarLesson.com for the month of September, 2013. This should be an interesting month, since it's the first non-summer month, but still a bit skewed by back to school preparations and activities.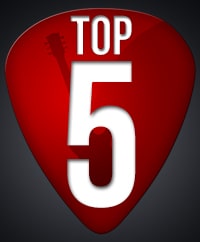 During the summer, most people don't really practice as much as they should, since they are preoccupied by vacations, summer outdoor activities, festivals, so that sort of stuff. It's a shame though, since during the summer, you generally have a bit more free time, but ah well.
Back to school activities during the first half of September makes the month a little irregular as well, since both parents, both schoolgoers, who would otherwise practice, don't do so because they are preoccupied with everything that starting the school year requires.
All right, so let's have a look at the 5 most popular guitar tutorials on the site for the month. As you know, I want to show you the 5 most popular song lessons, so if there are any basic guitar lessons in the top 5, I'll just expand the list to as many as it takes to show you 5 song lessons.
Top lessons in September, 2013
This month, we have 4 basic lessons within the top 5, which means I'm expanding the list to the Top 9 tutorials of September! It looks like more basic lessons were watched than in August, I guess more beginners have started practicing in September.
9. Ring of Fire - Johnny Cash
Just like last month Ring of Fire is on the list again. There's no doubt about it, Johnny Cash never gets old.
8. Someone Like You - Adele
This is of course a super popular song, but I think the younger generation enjoys it more, so I would say that this shows that more young people have been picking up their guitars in September.
7. Basic guitar lesson #2
Yes, this is the first sign that more beginners are playing as well. Last month, the 2nd basic lesson was not among the top lessons.
6. Basic lesson - How to read guitar tabs
Last month this was at spot #3, interesting to see it move down the list. I would have thought that with more beginners starting out, this lesson would stay strong, but I guess not.
5. Amazing Grace
Amazing Grace was at spot number 2 last month, when it was still a new lesson released in August. This was a really popular lesson, and I said it will probably make it to the top 5 list this month as well, I was finally right 🙂
4. Airplane - Plain White T's
Airplane was a new acoustic song I released in September, so it's no surprise to see it in the top list. Even though it's a really good song and it really develops your fingerstyle skills, I don't think it will be among the top lessons from the next month on, since it's not a very popular song.
3. Basic lesson #1
This lesson was at spot number 5 last month, so it moved up 2 slots, reinforcing my hunch that more beginners started playing in September. I wonder whether they are schoolgoers who are starting to play in their school bands?
2. Dock of the Bay - Otis Redding
This was another new lesson added in September, it's a truly great song, so if you haven't learned it yet, you really should. It was one of my favorite lessons to record as well, since the song is so much fun to play. Make sure you check it out at one time or another (preferably now).
1. Basic lesson - How to read chord charts
And the most watched lesson, just like last month, is another basic lesson on how to read chord diagrams.
It's great to see so many people starting to pick up the guitar and having a go at the basic lessons, but unfortunately, the fact that the top place is not occupied by a song lesson, means that a lot of people are giving up before progressing to the level where they can play songs. This is really unfortunate, since with a little dedication and practice, anybody could learn guitar and change their lives. Hope you will be one of them!
https://www.theguitarlesson.com/wp-content/uploads/the-guitar-lesson-logo.png
0
0
Tom - TheGuitarLesson.com
https://www.theguitarlesson.com/wp-content/uploads/the-guitar-lesson-logo.png
Tom - TheGuitarLesson.com
2013-10-04 12:14:20
2016-07-01 09:34:11
5 Most Popular Tutorials in September, 2013