Wow, it seems like I just wrote the last Top 5 Lessons post, and here we are again, 1 month later. The first month of the year has passed, which is a time when lots of people start learning guitar, since lots of people get guitar for Christmas.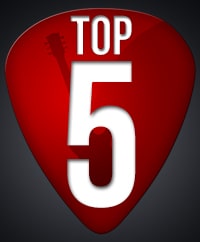 Also, I'm pretty sure that loads of ex-guitar players make it their New Year's resolution to pick up the guitar again, and that lasts for a few months as well.
So basically I'm expecting to see lots of the basic guitar lesson videos in this month's top 5 list, the duo of the Christmas guitar craze and the New Year's resolutions usually has this effect.
Let's just have a look at the most popular guitar lessons of January, 2014, shall we?
If you follow this series of posts, you'll know that I want to see the 5 most popular song tutorials, so if there are any basic guitar lessons in the top 5, I'll just expand the list to as many as it takes to show you 5 lessons on real guitar songs.
Top lessons in January, 2014
As I expected, we have 4 basic lessons within the top 5 in January, which means I'm expanding the list to the Top 9. Actually, 4 of the 5 top spost are basic lessons, which reinforces my initial thoughts. Let's drill into what you guys have been learning this month.
9. Ring of Fire - Johnny Cash
I don't think we've had a month with Johnny Cash missing from the list of tops lessons. Of course, he was a great artist, lots of people loved him, and he also had a controversial life. He wrote lot's of great songs, I teach several of them on the site.
8. Nothing Else Matters - Metallica
In contrast with Johnny Cash, we usually don't have any Metallica lessons in this list. I guess they aren't as strong today, as they were in their golden years, when they released songs such as Nothing Else Matters for example. If you want to learn more songs by Metallice, I have several guitar lessons from them on the site.
7. Spanish Guitar Lesson
This lesson is one of my favorites for sure, it teaches how to play a few authentic Spanish guitar lines. You'll need an acoustic guitar for this, better yet, a classical guitar, and you'll definitely impress your friends and family after learning this lesson. It's pretty easy, but really packs a punch.
6. Samba Pa Ti - Santana
Like Johnny Cash, Santana is usually among the top lessons as well. His latest album from 2012, Shapeshifter, wasn't as big of a hit as his albums usually are, so I'm sure he's working on new songs as we speak. Go Carlos!
5. Basic guitar lesson #2
As we enter the actual top 5 spots, the first lesson we see is the the 2nd basic lesson. This lesson gets you started out on chords, what the different chord qualities sound like, and basic muscle memory training by holding down some open chords.
4. You Never Can Tell
This songs is present in the top 5 list a lot as well, I guess it's an oldie but goodie. I can see why lot's of people love it till this day, even though is was recorded exactly 50 years ago!! Wow! When you think about the hits of today, like Justing Bieber and company, where are they gonna be in 50 years?
3. Basic lesson - How to read guitar tabs
Being able to read guitar tablature is an absolute necessity if you start learning guitar, so this lesson is understandably amongst the top lessons month after month. You just can't get around it, for example in my video lessons, I have animated tabs running, you wouldn't be able to read it if you weren't familiar with tablature.
2. Basic lesson - How to read chord charts
As with the tablature lesson, being able to read those chord charts is another must-know. I distinctly remember this from when I was a beginner, I had not the slightest idea what these diagrams actually meant (nor tabs for that matter), but once I read about it, things started making sense.
1. Basic lesson #1
As you would expect from the first month of the year, the most watched lesson on the site is the first basic lesson. It goes without saying that this was totally expected, since January is the ultimate "I want to learn guitar" month 🙂
I wish all of our new beginner students much success in their efforts, relentlessness when it gets a bit tougher, and loads of fun when things start coming together. Play loud and proud!
https://www.theguitarlesson.com/wp-content/uploads/the-guitar-lesson-logo.png
0
0
Tom - TheGuitarLesson.com
https://www.theguitarlesson.com/wp-content/uploads/the-guitar-lesson-logo.png
Tom - TheGuitarLesson.com
2014-02-09 12:13:28
2016-07-01 09:36:19
5 Most Popular Lessons of January, 2014