I like looking at my site statistics, to see what my students have been learning on TheGuitarLesson.com. It gives me an idea of how popular new lessons are, which songs are "evergreen", how seasonality affects the list, and so on. I find looking at analytics a lot of fun, go figure 🙂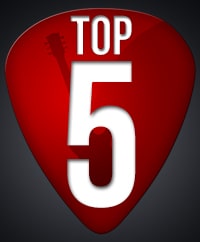 In today's social world, I'm pretty sure you'd be interested in which songs other students are learning in any given month, no? Yes! That's why from this month on, in the beginning of the month, I'm going to compile and share the 5 most popular video guitar lessons from TheGuitarLesson.com, for all to see.
If there are ever any basic lessons within the top 5, I'll mention them, but will also expand the top 5 list to as many as it takes to have 5 guitar song lessons included, since that's what intrigues me the most.
So let's begin, and to build the suspense, let's make it a real countdown by reversing the order. No skipping to the beginning of the list though, I'm watching you 🙂
Top lessons in August, 2013
This month, we have 3 basic lessons within the top 5, which means I'm expanding the list to the Top 8 tutorials of August!
8. Ring of Fire - Johnny Cash
Johnny Cash songs have always been popular, so it's no surprise to see one in the top list
7. Spanish guitar lesson
This Spanish lesson is always a favorite, it's simple, and sounds really good. I'm getting the urge to make more Spanish lessons for you, tell me if you're interested!
6. Samba Pa Ti - Santana
Good old Santana doesn't disappoint. He's one of the best guitarists in the world, and it looks like a lot of people want to learn to play his songs. Awesome!
5. Basic lesson #1
A lot of beginners start with the first basic lesson, so we'll probably see this one in the "Top 5" list every month.
4. You Never Can Tell - Chuck Berry
This was a new lesson this month, so having it in the list is more-or-less to be expected.
3. Basic lesson - How to read guitar tabs
Reading tabs is a fundamental skill, all beginners need to learn it before advancing with the guitar, just like Basic lesson #1 in spot 5.
2. Amazing Grace
Amazing grace was a new lesson this month, so again, seeing it on the list can be expected. I think this one will remain on the list though, a lot of people loved this lesson.
1. Basic lesson - How to read chord charts
And the most watched lesson is another basic lesson on how to read chord diagrams. I am surprised to see that this lesson was watched by almost double as many people as the lesson on reading guitar tabs, since both of them are very similar and are basically required for learning guitar.
It's somewhat surprising to see that a basic lesson holds the top spot for the month. Since TheGuitarLesson.com aims to cater to beginner guitarists, we have a lot of new students just starting out with the guitar all the time, so this is my reasoning.
https://www.theguitarlesson.com/wp-content/uploads/the-guitar-lesson-logo.png
0
0
Tom - TheGuitarLesson.com
https://www.theguitarlesson.com/wp-content/uploads/the-guitar-lesson-logo.png
Tom - TheGuitarLesson.com
2013-09-01 12:13:33
2016-07-01 09:35:41
5 Most Popular Guitar Lessons in August, 2013