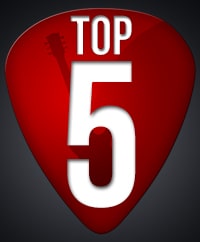 Hey guys, another month has passed, so it's time to get statistical. As you might know, each and every month I share the 5 most watched lessons on the site.
Why?
To motivate you to play new songs, to keep on practicing, and to keep on getting better at the guitar. I'm hoping that by seeing what other members of TheGuitarLesson.com are doing, you'll get an irresistible urge to grab your guitar and start playing these songs 🙂
April was an interesting month for us. Google changed something in it's algorithm, and the result is that the site gets about 30% less visitors from Google search. Not good.
We'll need to step up our presence on social media, so if you're reading this, please like and share this page with your friends on whichever social media platform you're active on. Thanks in advance!
Now let's have a look at the list.
5 most watched guitar lessons of April, 2018
5. Wonderful Tonight - Eric Clapton
Coming in at 5th place once again is an Eric Clapton classic, Wonderful Tonight. This is a great song to learn since it's a beginner tune, yet it sounds really great once you can play it up to speed. And of course, if you have the voice, let it out. Singing the lyrics to Wonderful Tonight while playing it on the guitar will be pure magic.
4. Say You Won't Let Go - James Arthur
Say You Won't Let Go is back on the Top 5 chart once again. It's a very nice, mellow song that will teach you a lot of acoustic guitar techniques. You'll learn new strumming patterns, and also a percussive slapping technique that will make your playing more percussive. If you haven't done so yet, make sure you learn this song.
3. Father & Son - Cat Stevens
Being a father of a boy, this song really gets me each time I listen to it. It may not be one of the most known songs in the world, but hey, if it made it on our Top 5 list, it must be a hit 🙂 Actually I'm pretty sure this is the first time the song has had the prestigious honor of being on this chart. Congratulations! This one is another acoustic strumming song, so if that's your thing, you know what to do.
2. Hotel California - The Eagles
This classic hit continues to show up on the list. It's a great song to learn that will teach you a lot about the electric guitar. You'll learn almost all of the original song, with the exception of the solo. If you want me to create a lesson teaching just the solo (with a little bit of theory sprinkled in), let me know in the comments section under this article.
1. Basic lessons
I usually don't include any of the basic (non-song) lessons in this list, but I thought this month it would be an interesting change to have a look at how they are doing as well. The absolute most watched lesson on the site is on How to read guitar tabs, the second is on How to read chord charts. These outdo any other lesson by a mile, which is understandable, seeing how my website is geared towards beginner guitar players, and these 2 lessons are indispensable for learning guitar.
So that's it for this month's list, hope you liked it. Before you go, please let me bring your attention to 2 new epic posts I wrote:
If you like them, please share them on Facebook and Twitter and Pinterest and Instagram and everywhere else 🙂
https://www.theguitarlesson.com/wp-content/uploads/the-guitar-lesson-logo.png
0
0
Tom - TheGuitarLesson.com
https://www.theguitarlesson.com/wp-content/uploads/the-guitar-lesson-logo.png
Tom - TheGuitarLesson.com
2018-05-04 13:24:55
2018-05-16 07:44:16
5 Most Popular Guitar Lessons - April 2018