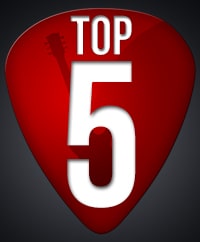 Hi guys, we're in the middle of summer, time flies by quickly. So quick, that I actually forgot to write the Top 5 post last month, sorry about that to whoever reads it regularly.
We're still in the middle of summer, so most of you are enjoying your vacation time with family and friends. It's been a hot summer, so I can imagine that going to the beach has had priority over your practice time 🙂 It's ok, it's only natural, but keep your calluses in check, otherwise they'll disappear and you'll need to work extra hard to form calluses again.
In case you are needing a bit of inspiration as to what to practice, have a look at the most watched video lessons from last month.
The 5 most popular guitar lessons of July, 2017
5. Wipe Out - The Surfaris
Wipe Out is a great song for beginners to start learning alternate plucking with a plectrum. It was actually one of the first songs I ever learned as well. Best of all, the backing track you'll find on the lesson page will let you play the guitar part along with a band, which is always a thrill. Once you learn the riffs, make sure you play along with the backing track
4. Love Yourself - Justing Bieber
Whether you are a "Belieber" or a hater, you have to admit, the music the guy's been making lately is good. Love yourself was actually written by Ed Sheeran, which obviously adds a lot to the songs characteristic guitar riffs and rhythm. This is a very easy song, Level I actually, so if you are a beginner looking for a fun song to learn, check it out!
3. Pink Panther theme - Henry Mancini
Not exactly sure how popular the Pink Panther is with the youth of today, but with my generation, it was very trendy. Most will recognize that quirky theme song after playing the first 4 notes, or even the first 2. Learning the Pink Panther theme will help you develop your rhythm, and your lead guitar skills. There are double string slides, hammer-ons, string skipping, etc., but it's still very easy to play.
2. Hotel California - The Eagles
This popular Eagles song was released before I was born. It is exactly 40 years old today. Wow. During this time, it's gathered a few very prominent achievements, including a Grammy, many #1 spots on world wide charts, and even being listed in Rolling Stone magazines 100 Greatest Songs of All Time. Being a Level II song, it's fairly simple, so make sure you make this a part of your repertoire.
1. Ring of Fire - Johnny Cash
Ring of Fire has made it to the top of our most watched list several times in the past, and it's back with a vengeance, beating the #2 song by 15%. It is a great song for beginners to learn, since it teaches basic chord shapes and strumming.

I hope a few of the songs your peers have been practicing have inspired you to keep on playing during the last month of summer.
Have fun, and I'll see you in one of the lessons!
https://www.theguitarlesson.com/wp-content/uploads/the-guitar-lesson-logo.png
0
0
Tom - TheGuitarLesson.com
https://www.theguitarlesson.com/wp-content/uploads/the-guitar-lesson-logo.png
Tom - TheGuitarLesson.com
2017-08-07 13:24:28
2018-05-16 07:44:20
5 Most Popular Beginner Guitar Lessons - July, 2017