Learning to play guitar, or any instrument for that matter, is amongst the greatest things you can do in life. Numerous studies have revealed that musicians are usually more sociable, get better results in school, and tend to be more open to the world. The guitar is a very popular musical instrument, hence many people choose to learn to play the guitar, instead of the violin for instance.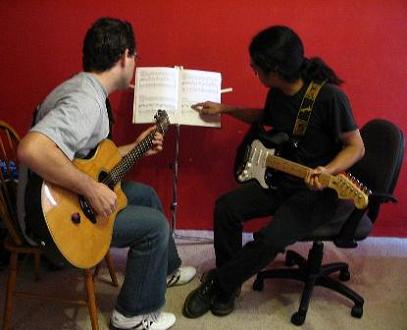 Learning to be a guitarist without the assistance of a live teacher is quite possible nowadays. Back when I learned, we had just books and tapes to learn through. The worldwide web has honestly revolutionized music education and learning, which makes it simple to learn the guitar.
In the age of the net, the only thing you can't find information on is the one you don't do a search for. You'll come across an abundance of content for learning the guitar, everything from understanding how to read tablature, play chords, and even beginner guitar songs. The issue is actually with the abundance of info, because beginner guitarists generally don't stick with a given site and lesson program, but rather, skip between guitar lesson sites, and that is certainly not a really good approach to take.
Training yourself how to play the guitar takes time and devotion, but the end result will certainly be more than worth it, you may never look back. To start with, be sure you find a high-quality, reliable site to learn the guitar. I have seen numerous sites, which I cannot name on this page, that try to get novice guitar players to think that they'll turn into a guitar god in 3 days. However, this is not possible for a number of reasons, but you will see for yourself once you begin playing. Getting good requires practice, which is the ultimate secret of learning to play guitar.
During my time spent teaching, I have found that the easiest method to keep a student motivated, is to begin playing real beginner guitar songs right from the beginning. Playing easy songs is possible from virtually day 1, plus it gives a self-confidence lift to the student.
The Steps to Learning to Play Guitar
This is actually the shortened lesson strategy I utilize with almost all of my beginner students:
Teach my guitar students the most elemental guitar techniques
Refine and advance the fundamental techniques though learning guitar songs for beginners
After that I teach my students how to play chords
After that, you should not simply play chords at random, practice all of them by playing songs
Master more techniques, than refine the new techniques by applying them in songs
The above way of learning the guitar guarantees that the student will stay excited about playing, and that is key to getting adequate practice. If you merely practice tedious exercise routines day after day, it's almost guaranteed that you'll have enough of the guitar after about 2 weeks... But if you learn to use your newfound abilities to actually make music, you are going to remain motivated and continue practicing. You'll want to practice more because you will want to play the song flawlessly. And the more you play, the better you become, that's a fact.
Learning how to play guitar on the internet is especially doable these days, there is no question about it. Make sure you look for a site that offers a well-organized approach to learning, and you will be off to an excellent start already. Learning to make music is among the best things I have ever done for myself and my family, I do hope you will do the same.