Are you an absolute beginner to the guitar? Do you have some experience, and want to start learning easy to play songs for beginners on your guitar?
If your answer is YES to any of the above, that good news! You CAN start playing easy guitar songs for beginners from virtually day 1 of picking up the guitar.
There are tons of very popular, yet simple songs you can start playing today! Of course, you'll need to be familiar with some basic principles and techniques, but once you can pluck a couple of notes and hold down a couple of simple beginners guitar chords, you'll be well on your way to learning to play songs on your guitar as well.
At TheGuitarLesson.com, you'll find high quality video guitar lessons teaching you how to play the best songs in an easy, step-by-step manner. Here are a couple of the most popular lessons you could start watching today:
Good Riddance by Greenday
This song by Green Day is very popular amongst our beginner guitar students, since it is a great hit and can be learned quite quickly. You can play this song on an acoustic OR electric guitar, just make sure you turn your distortion off, since you'll not only be picking individual strings, but strumming a few simple chords as well. Our guitar lesson on Good Riddance will show you how to play the song in an easy to follow manner, thanks to the on screen animated tablature. And if you like this song, we have several other Greenday guitar lessons for you as well.
Greensleeves
This 16th century classic is still one of my favorite songs to date. Our guitar lesson on Greensleeves will show you 2 aspects to the song, one for playing the melody, and one for adding backing chords to the song. You could actually record yourself playing the chords, and play over it with the melody, or vice-versa. By learning this easy guitar song, you'll be giving your fingers a nice workout as well, since you'll be using fingerpicking all throughout the lesson.
Spanish Guitar Lesson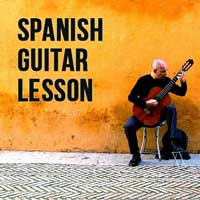 If you like flamenco and the sound of Spanish classical guitarists, you'll love our Spanish guitar lesson. This beginner guitar song also employs an easy to learn interpretation of Malaguena, which you'll absolutely love playing to yourself, as well as your friends and family. The song looks complicated at first, but just try it, you'll see that there's not that much to it.
The above are just a couple of the easy songs we have for beginner guitarists. Have a go at one, or learn all of them if you like, just make sure you practice as much as you can to improve your skills as quickly as possible.
https://www.theguitarlesson.com/wp-content/uploads/the-guitar-lesson-logo.png
0
0
Tom - TheGuitarLesson.com
https://www.theguitarlesson.com/wp-content/uploads/the-guitar-lesson-logo.png
Tom - TheGuitarLesson.com
2019-04-26 06:00:18
2019-04-26 06:00:18
Guitar Songs for Beginners